Who's Online Now
0 members (), 216 guests, and 63 robots.
Key:
Admin
,
Global Mod
,
Mod
Forum Statistics
Most Online
3,380


Dec 29th, 2019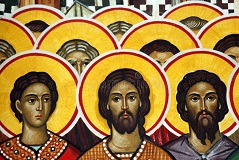 Sundays After Pentecost



When You descended to death, O Immortal Life, * You slew Hades with the lightning of Your divinity. * And when You raised the dead from the depths of the earth, * all the heavenly Powers cried out: * "O Giver of Life, Christ our God, glory to You!" (Troparion)

The Icon is of All Saints.
---
Note: If you have registered as a new user and do not receive a response within 48 hours please email us at forum@byzcath.org. There is currently a glitch in our software that needs fixing.
News & Events
Forums
Threads
Posts
Last Post
Church News

(37 viewing)

Current news about the Christian East.

5,034

61,751

by Adamcsc

Eparchial & Parish Events

(1 viewing)

Events relating to your local parish or eparchy (diocese) and provide feedback on how well they were received.

360

1,405

by OEFNavyVet
Faith & Christian Life
Forums
Threads
Posts
Last Post
Prayer

(9 viewing)

Request prayer or tell another you are praying for them.

5,855

47,941

by Administrator

Faith & Theology

(58 viewing)

Dogma, doctrine, Church History.

6,340

84,964

by theophan

Scripture and Patristic Writings

(6 viewing)

The Bible & the Church Fathers: witnesses of faith.

704

7,840

by Adamcsc

The Christian East & West

(34 viewing)

That they may all be one. (John 17:21)

2,599

61,289

by Adamcsc

Parish Life & Evangelization

(5 viewing)

Making Christ present in your local community.

1,590

20,660

by Adamcsc

Books

(1 viewing)

Post or find a good read.

457

2,119

by Adamcsc
Mysteries: The Life of Worship
Forums
Threads
Posts
Last Post
Vespers, Matins & the Divine Liturgy

(3 viewing)

The history, development and details of the Liturgy.

738

15,701

by Orthodox Catholic

The Other Sacramental Mysteries

(1 viewing)

Sacraments and Sacramentals - vessels of the mystical participation in divine grace.

103

937

by J Michael

Icons & Iconography

The theology of icons, how icons are used in worship, and how iconographers go about creating them.

320

2,229

by theophan

The Kliros

A meeting place for those who chant the Liturgy.

286

2,245

by arekeon27

Old-Ritualists Forum

(2 viewing)

The theology and liturgy of the Russian Old-Ritualists, both the Popovtsy and Bezpopovtsy.

293

1,467

by aramis
General Discussions
Forums
Threads
Posts
Last Post
Town Hall

(34 viewing)

Discuss everything that doesn't fit into one of the above categories here.

9,168

96,531

by theophan

Geek Hall

(1 viewing)

The digital age: computers & technology.

89

657

by ajk

Photo Gallery

(13 viewing)

Your photo-witness of the life of the Church.

490

2,774

by orthodoxsinner2